The Minimal Unit of Home: An Object's Landscape
Thesis
What about the inside? Why do we, as architects, pay more attention to the outside? Is it because the external capsule of a building provides us a greater sense of control? Or is it because the externality of a building is just easier to comprehend than that of the forever changing interior landscape…one where objects are the responsible for the determinacy of space? How small can we go? To allow us to rethink the definition of any given space, the inversion of object/architecture relationship needs to take place.
INTRODUCTION


In "The Architecture of the Well-Tempered Environment", Reyner Banham discusses the never-ending problem throughout architectural history where crucial aspects such as mechanical services, in his case, have almost entirely been excluded from the discipline's discussion. Applying a similar way of thinking, discussion can begin in regard to a layer beyond services, another layer that has been similarly forgotten: the interiors.

Uses and functions in spaces, historically have continued to merge more and more. New design environments are results from changing patterns of life: with more informal social and family relationships. But what if these new habits are utilized to reimage the minimal unit of home? One that improves quality of life through the design of the smallest module of the built environment within a home.

Program of spaces can be defined by its contents, more specifically, the objects that inhabit it. Do beds really need to be inside a "bedroom" next to a nightstand? Do dining tables have to be inside a "dining room" adjacent to the kitchen? Do clothes really need to be inside a closet or can they be hung on the wall next to the dining area that is next to the bed that is next to the study desk and so on. If our interaction with objects on a daily basis is higher than with the architecture that holds them, why then not let them be the determinants of space?

We can no longer ignore this object/architecture relationship where spatial conditions between the built-environment and movable objects begin to express the importance of objects as anchors amid the endless continuity of space.

PRECEDENT IMAGES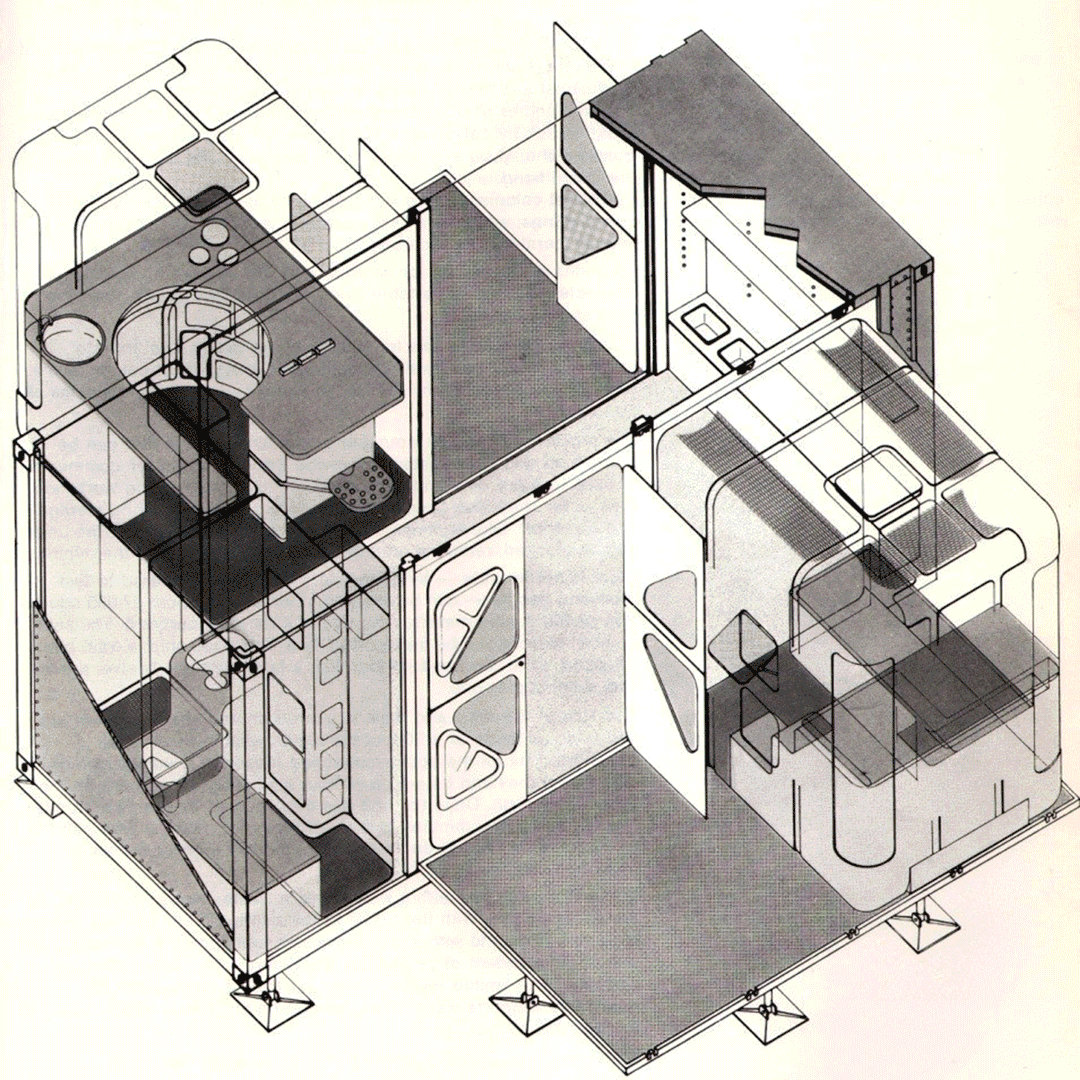 RE-ENVISIONED



Duplicity of objects, for example, a chair, which appears in several spaces within a home such as dining rooms, living rooms, studies, gardens begins a discussion on whether all these different spaces are necessary, or can they begin to merge into one? This vision of rooms begins to loosen and spaces become more flexible and impermanent, with program defined through the population and adjacency of everyday objects.
By forgetting the boundaries of names given to rooms such as "living rooms", "dining rooms", "kitchens", it is easier to see the relationship of program of space in relation to the objects that inhabit it. Spaces can be categorized in other means such as rest, work, recreation and public, semi, and private. Spaces then begin to have multiple functions, the recreational-private unit starts to merge with the spaces directly adjancent to it because of the objects that live within it. This duplicate of objects, for example, a chair, which appears in several spaces within a home such as dining rooms, living rooms, libraries, gardens begins a discussion on whether all these different spaces are actually necessary when the minimal unit of home is being envisioned or if all these spaces can begin to merge into one.
This new vision of rooms begins to loosen this permanent state of rooms created by the permanence of preinscribed architecture (walls, corridors) and begins to view these spaces as more flexible and impermanent.
Responding to this idea of giving back power and hierarchy to objects within a space. Objects importance and their influence of the "world of objects" as a form to define inner space of the built environment is often neglected or completely forgotten. Therefore, inner spaces and the objects inside them remain as an incredibly fragile part of architecture – excluded.

The minimal unit of home is reenvisioned, not as a series of walls that act as the capsule for our belongings but rather the objects within the space begin to define these programmatic qualities of activities that could be performed within these spaces.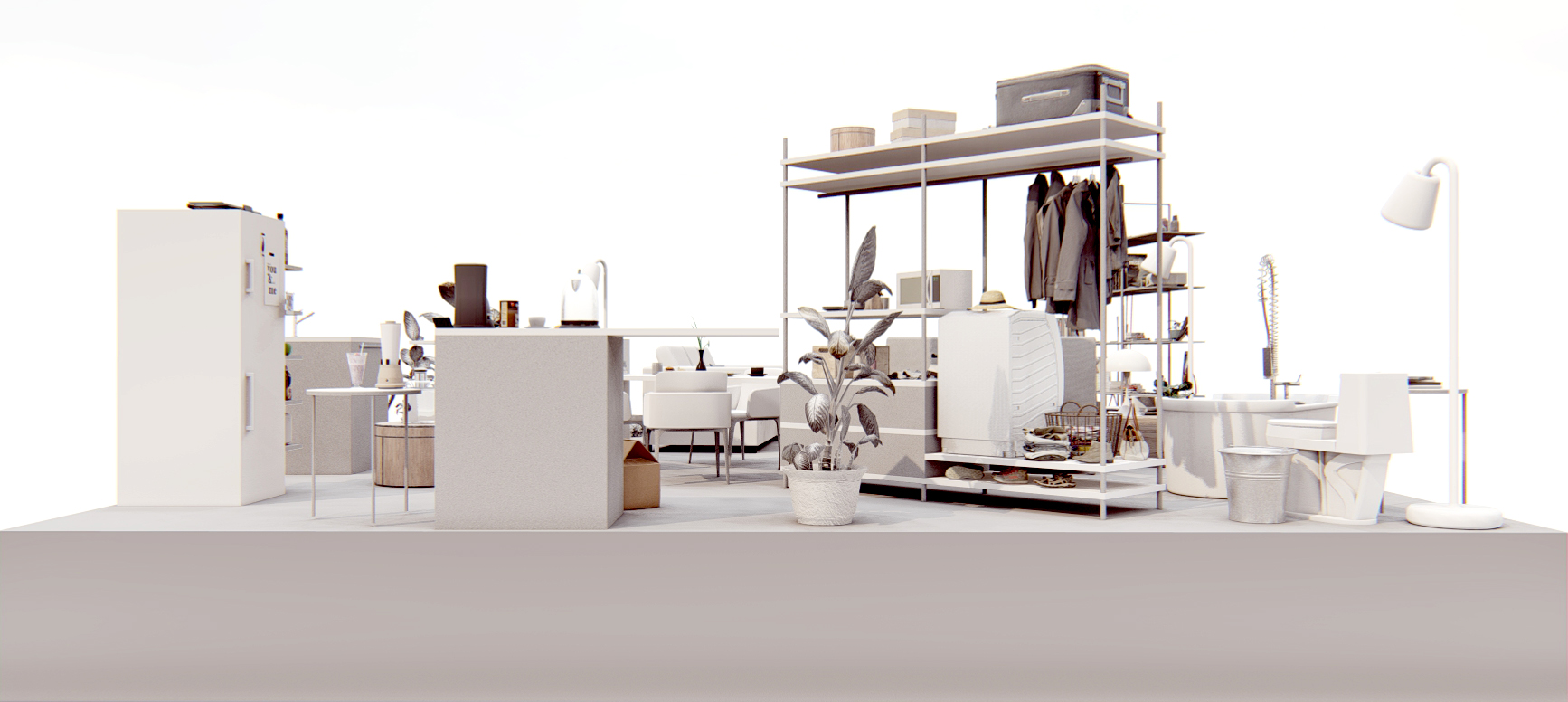 In this project, I present 3 different arrangements. The first arrangement sits on a 256 sq. ft. with enough space and amenities to house up to 2 people. It has the architectural elements (columns, walls) arranged in a grid-like form and the objects placed within this floor plan are organized aligned more similarly to current standards of object adjacencies within a home. The second arrangement utilizes architectural objects to create edge conditions and this leads to a more segmented and private arrangement. It uses the same objects but arranges them to create edges within the unit. Allowing objects to establish edge conditions inherently makes the space more public and open to sharing. At 400 sq. ft., it could house up to 3 people. Architectural elements form boundaries, such as walls and columns, but on this next arrangement, objects form them, such as beds and couches. Objects become more autonomous, placed unrelated to one another. The last arrangement, at 576 sq. ft. has the possibility of housing up to 4 people. Spaces begin to merge as objects are placed unrelated to one another, with the architectural elements creating boundaries between spaces. As objects shift to create space boundaries, we see the possibility of dining tables next to beds, next to couches, next to the washing machine begin to coexist. New norms begin to form, new adjacencies and object relationships begin to emerge.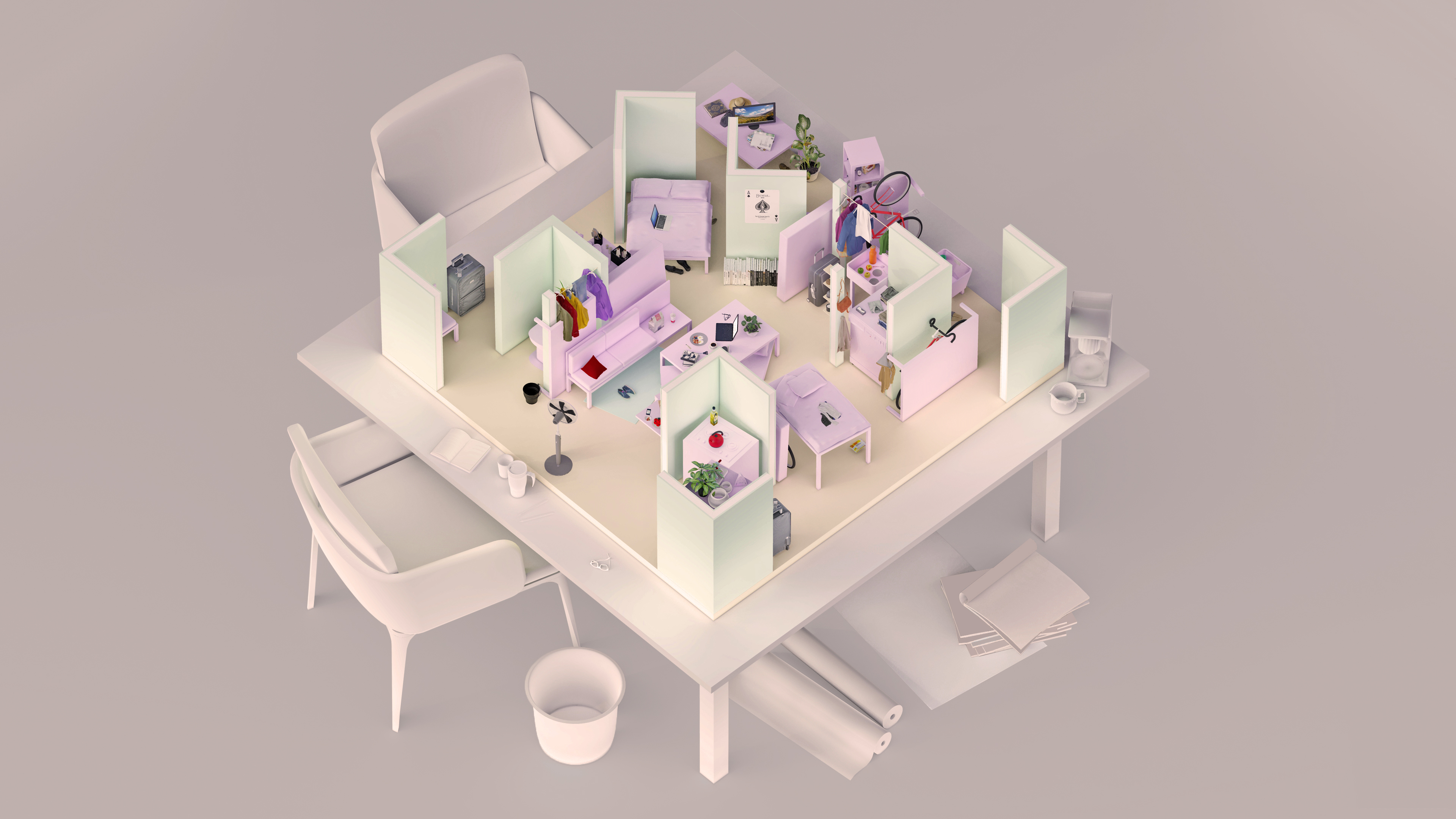 Objects begin to take on architectural qualities. Domestic household items and methods begin to create visual barriers between spaces. For example, a metal rod between architectural elements, used to hang clothes, and towels, combined with an upturned table, now becomes a boundary in this arrangement.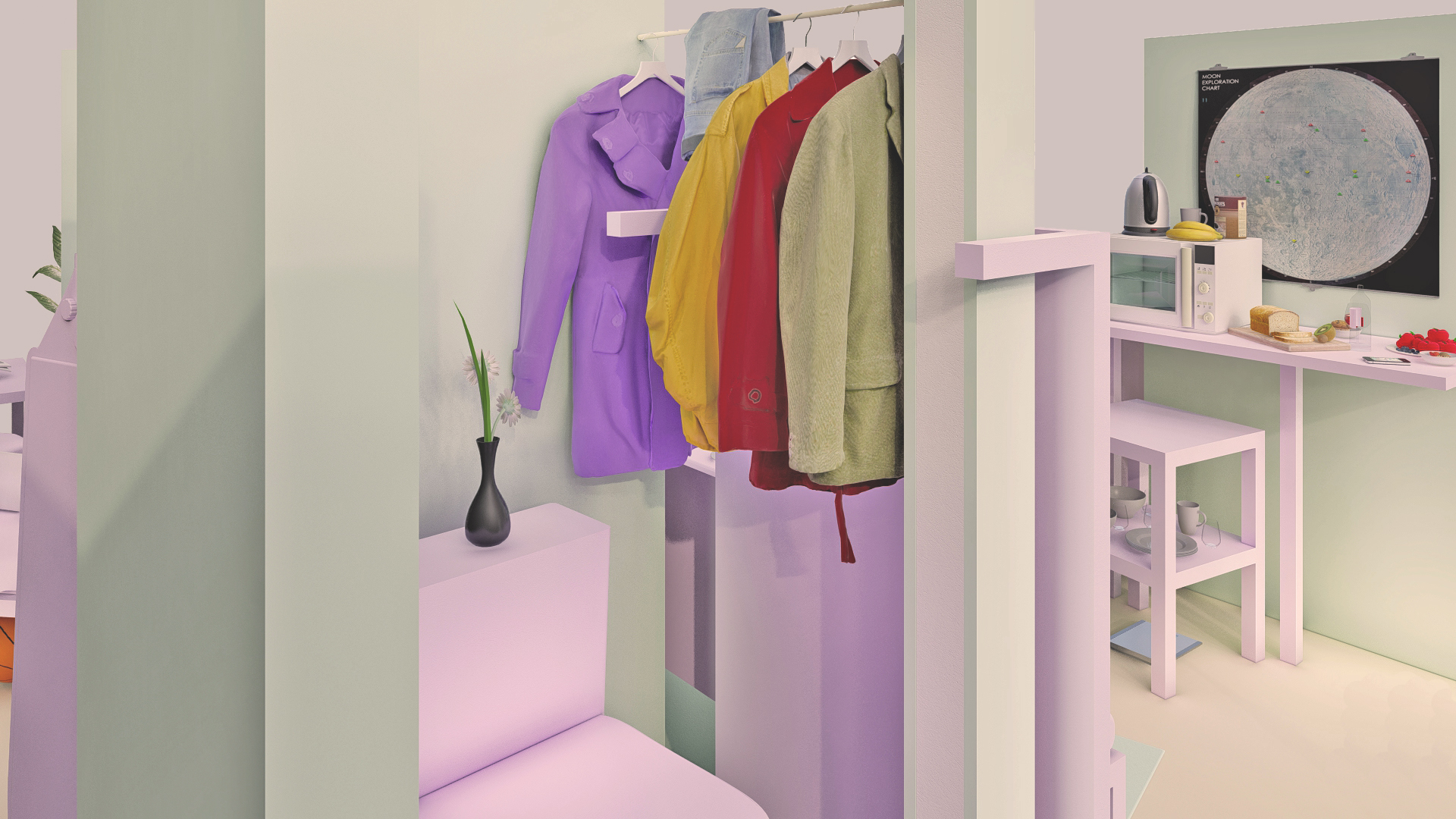 Equally architectural elements such as walls and columns allow for objects to perform necessary functions, but also give way to the sharing of amenities. For example, the sink bridges the bathroom space and the kitchen space therefore increasing the purpose of the object.




In these arrangements the flexibility of the objects and spaces allows for the change of use priority. For example, mattresses are used as a way to establish informal enclosures as well as perform their inherent purpose. This combination of architectural elements and objects gives equal agency to the architect and the occupant.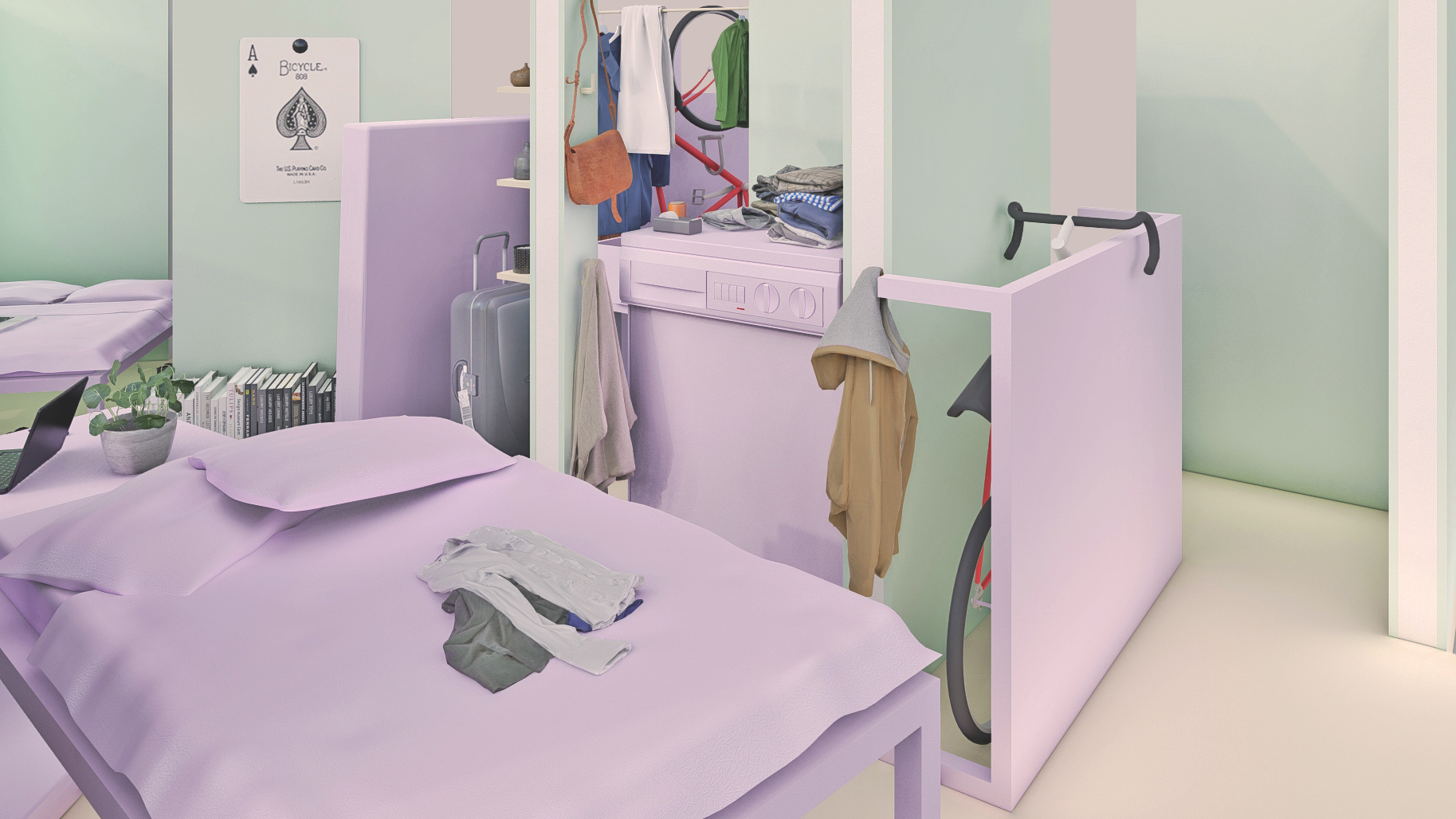 Seen as a new trajectory, one that begins to emphasize the relationship of between interior and the importance of objects within to determine programmatic determinancy of these spaces. The specific program of the minimal unit of home will push to inherently merge programs because of the repetitious appearance of certain objects within this space. The home as a series of blended, flexible spaces where the possibility of a bedroom within a kitchen, bathroom within a living room, office within bedroom are spaces that are not out of the question but create an interesting conversation of the importance of objects to create the architecture of the home.
The project aims to enhance and enrich the architecture-object relationship, in a space in which objects can be used as architectural elements and architectural elements can be used as objects. These are arrangements for living where order, edge and sharing becomes the parameters that allow for architecture and objects to be the same. Objects and architecture compromise with one another to create boundary conditions, moments of shared space and give way for order or disorder. This thesis discusses a new way of living, one where the permanence of architecture does not limit the way we live but opens the possibility of a form of living in which objects and their relationship to the interior define space.


- To mom & dad & El Salvador -


BIBLIOGRAPHY

Aulenti, Gae. Italy/House Environment. New York City, New York: The Museum of Modern Art, 1972.
Aureli, Pier Vittorio, and Martino Tattara. The Room of One's Own. Black Square: Dogma Architects, n.d.
Aureli, Pier Vittorio, and Martino Tattara. Production/Reproduction: Housing Beyond the Family. Vol. 41. Cambridge, Massachusetts: Harvard Design Magazine, 2015.
Aureli, Pier Vittorio, and Martino Tattara. Soft Cell: The Minimum Dwelling. Architectural Review, 2018.
Aureli, Pier Vittorio, and Martino Tattara. Loveless: The Minimum Dwelling and Its Discontents. Black Square: Dogma Architects, 2019.
Banham, Reyner. The Architecture of the Well Tempered Environment. Architectural Press, 1969.
Collins, Jim. No (Popular) Place like Home: On Global Space and Personal Space. Vol. 47. Cambridge, Massachusetts: Harvard Design Magazine, 2019.
Colombo, Joe. Total Furnishing Unit. New York City, New York: The Museum of Modern Art, 1972.
Estevee, Ramon. The New Domestic Landscape. New York City, New York: The Museum of Modern Art, 1972.
Fabrizi, Mariabruna. A Downsized Manhattan Between Analogy and Abstraction: "Roosevelt Island Housing, Competition" by O.M. Ungers (1975). Socks Studio, 2018.
Lucarelli, Fosco. Ettore Sottsass Jr., Mobile and Flexible Environment Module, 1972. Socks Studio, 2013.
Lucarelli, Fosco. The One-Room Apartment by Cornelius Meyer (1689). Socks Studio, 2017.
Superstudio. Microevent/Microenvironment. New York City, New York: The Museum of Modern Art, 1972.
Mostafavi, Mohsen. Architecture's Inside. Vol. 47. Cambridge, Massachusetts: Harvard Design Magazine, 2019.
Mostafavi, Mohsen. The Interior as Setting. Vol. 47. Cambridge, Massachusetts: Harvard Design Magazine, 2019.
Puijganer, Anna. The Continuous Interior: An Endless Landscape. Architectural Review, 2018.
Rumpfhuber, Andreas. The Incorporation of Dissent: Burolandschaft's Legacy. Vol. 47. Cambridge, Massachusetts: Harvard Design Magazine, 2019.
Shanken, Andrew M. Unit: A Semantic and Architectural History. Vol. 143. Berkeley, CA: University of California Press, 2018.
Sigler, Jennifer. What Else about the Inside? Vol. 47. Cambridge, Massachusetts: Harvard Design Magazine, 2019.
Sottsass, Ettore. Preliminary Project for Microenvironment. New York City, New York: The Museum of Modern Art, 1971.
Wigley, Mark. Whatever Happened to Total Design. Vol. 47. Cambridge, Massachusetts: Harvard Design Magazine, 2019.



- ADVISED BY NEYRAN TURAN & RUDABEH PAKRAVAN -
UNIVERSITY OF CALIFORNIA, BERKELEY
COLLEGE OF ENVIRONMENTAL DESIGN
CAROLINA AGUILAR, PORTAFOLIO 2023 | AUSTIN, TX 78723 | ANN ARBOR, MICHIGAN 48105 | BERKELEY, CALIF. 94704