BACKGROUND
The Roots development provides cross-generational affordable housing curated for residents to build a community rooted in Rockridge. Situated in the heart of one of the highest opportunity neighborhoods in the Bay Area, our proposal seeks to maximize this opportunity with the highest density and greatest diversity of benefiting populations that also provide the greatest financial
and ridership returns to BART. This 163 unit project (and 316 bedrooms), spread across two sites, services three population groups to create as much affordable housing access for as many age groups possible including families, seniors, and single-urban dwellers. Through a hybrid finance
structure of 9% and 4% tax credits and affordable-by design co-living market rate component,Roots utilizes all funding mechanisms to maximize affordable housing where it is needed most.
OUR SCOPE

The property site is located at the Rockridge BART Station in Oakland, California, and is currently owned by BART. RockBridge partners ("The Team") has responded to a call for proposals for a development program, design, and financial structure that will maximize ground lease revenue and ridership increases while providing much-need affordable housing consistent with minimum height, parking, and density thresholds of the recently adopted BART TOD Standards.
RockBridge Partners is a mission-driven affordable housing development company. We are made up of five Oakland and Berkeley-based graduate students committed to providing access and opportunity to affordable housing solutions for residents in the East Bay and are excited to pursue this project.
The Roots program is a unique opportunity to bring residents closer to transit and the amenity-rich neighborhood of Rockridge. Our proposal responds to BART's goals by providing the maximum number of residential units, generating the highest financial return and ridership counts compared to our competitors, and meeting the standards and objectives of the BART TOD Standards.The following proposal includes detailed information about the Roots development program, design scheme, and financial structure.
OVERVIEW

Roots would develop two BART-owned properties; a 53,553 square-foot north parcel along Miles Avenue and a small 19,141 square-foot south parcel configured in a tight triangle at the corner of Shafter Avenue and Forest Street. The north parcel would include 43 family and 105 senior units (designed with senior-serving amenities), in a six-story structure facing Miles Avenue. The south parcel would include 15 co-living units each with three to six-bedrooms for a total of 68 bedrooms. The co-living model provides an affordable-by-design approach for residents (mostly young professionals) that would not normally qualify for affordable housing but cannot afford an average one-bedroom unit in the highly-desirable Rockridge neighborhood. The project is designed with communal outdoor and indoor space allowing all residents to easily move throughout the project, interact with one another, and establish a sense of place and community. The family and senior project will share a common third-level courtyard while still providing outdoor spaces reserved for each population group. An underpass bikeway and park will serve to connect both sites and the broader neighborhood without removing any underpass parking. Together, the two sites are bounded by four neighborhood streets two of which have existing bicycle infrastructure and one with a planned bike path that will be constructed in tandem with this project. The site's connectivity to bike paths and walkability is continued through the Roots circulations path that weaves indoor and outdoor space to match the existing pedestrian fabric of the neighborhood. With over 170 bicycle parking spaces and [free AC transit passes and subsidized BART passes], Roots puts active transportation first. 28 vehicle parking spaces are provided for family units as not all family-serving uses are adjacent to transit.


ROCKRIDGE NEIGHBORHOOD

Roots is located in the Oakland's Rockridge Neighborhood in the northern-most area of the City.
Rockridge is a bustling neighborhood situated between Berkeley's Claremont Neighborhood to the north and Temescal neighborhood to the south. All three neighborhoods are known for their pedestrian- and bike-friendly scale, historic architecture, and local retail districts. Both sites would be connected through a series of pedestrian and bicycle circulation to connect north and south parcels under the freeway underpass that is approximately 45' in height still allowing for adequate natural lighting.


The Site is centered along a one-mile commercial and retail corridor of Rockridge, Roots would be perfectly
situated within a 1⁄2 mile of variety of restaurants, cafes, shops, and two markets including Trader Joe's
one block north and Market Hall one block south of the site. Claremont Middle School is located one block
northeast of the project area across College Avenue and is one of the highest performing schools in the
Oakland school districts. The remaining uses making up the Rockridge neighborhood consist of single-family
residences with several 2 to 5-unit apartments buildings scattered throughout the neighborhood. Rockridge has a Walk Score of 94/100, and Bike Score of 81/100. This amenity-rich and highly-accessible neighborhood is a perfect setting for all tenants of Roots.

GUIDING PRINCIPLES

The Rockridge neighborhood is an advantaged community offering amenities for all age groups. Roots'
adjacency to transit and the Rockridge neighborhood has steered RockBridge's development proposal through
three guiding principles.


1.
Intergenerational Inclusivity.
Roots will focus on housing and inclusive design for families, seniors, and urban dwellers in need of affordable-by-design market rate solutions bringing three different generations and populations together in one project.
2.
Rooted in Oakland.
Roots also celebrates its location and serves the broader Rockridge and Oakland community with an Oakland-first community preference policy, design sensitivity to the surrounding neighborhood context, and a flexible entitlements strategy.
3.
Strength in Numbers.
Roots will place the maximum number of units, bedrooms, and residents close to Rockridge BART adding a diverse community to the Rockridge neighborhood. RockBridge's hybrid tax credit structure and market-rate component will maximize tax credit competitiveness and returns to BART through a $3.4 million upfront payment and increased ridership from 316 bedrooms placed right at at BART's entrance.
1. INTERGENERATIONAL INCLUSIVITY
The Rockridge neighborhood is an advantaged and highly amenitized community with high financial barriers
to housing with the average home prices approaching $2 million. Existing residents have an annual household
income at $121,969 and over 45% of residents with a bachelor's degree or higher signaling a more affluent
population compared to Oakland at large. This also results in an increased threshold for affordability and
lack of below-market-rate housing options. The lack of affordable housing and rich density of amenities
makes Roots a perfect opportunity to provide access to Rockridge through housing. Elements of the
neighborhood would benefit each of Roots' residents.
Seniors
The Rockridge neighborhood is ideal for seniors. The AARP livability index scored 75 in Neighborhood and 80 in
Health. Strengths of the neighborhood included good access to healthcare services with no shortage of available
doctors and clinics, access to parks, markets, and a mix of uses in a compact neighborhood. The lowest index
scoring category was housing affordability which would be solved through Roots affordable housing program. Roots
would place approximately 105 senior units adjacent to a high-scoring neighboring improving access to care and
higher quality of life. Of these, 30% will be targeted toward formerly homeless and other supportive populations to
expand opportunity regardless of circumstances.
Families
Rockridge has a higher percentage of families with children under 18 (56%) compared to Oakland's 46% signaling that the families are
willing to pay a great deal to live in this high- quality neighborhood. With a higher percentage of families already established in Rockridge, there will be a continued emphasis on supportive uses making Roots an ideal housing opportunity for our 43 family households. Moreover, Rockridge is adjacent to three high- performing schools in the Oakland School district providing an opportunity for high-quality education for youth living at Roots.
Young Professionals
Roots will provide 68 market-rate rooms for urban dwellers. An average studio in Rockridge is over $2,000 a month
if you can find one and not affordable for many young professionals. The affordable-by-design approach through
co-living opens up a shared economy by placing 5 unrelated residents in a unit saving costs by pooling together
shared common space and bathrooms to reduce rent per room by 20%. Our tenants will get a brand-new unit for
prices starting at $1,600 a month. Through a co-living model operated by a third party, amenities would serve
young, urban professionals seeking a home in Rockridge for its rich neighborhood amenities and quick access to
the region's major employment centers (Downtown San Francisco and Oakland), through a quick hop on BART.
Rockridge includes a dense mix of restaurants, cafes, markets, and uses that serve young professionals as much as
they serve seniors and families.
INCLUSIVE DESIGN
The Team designed our buildings to ensure the unique needs of each population is met while encouraging
cross-generational interactions. With efficient unit designs and robust common spaces, Roots provides a
place where our residents can realize their individual potential and cultivate genuine community.
Our unit mix and designs cater specifically to each target population. The 43 units of large family housing
primarily consist of two- and three-bedroom units targeting from 30% to 80% of area median income
(AMI), providing both affordability and unit sizes that cannot be found in the private rental market within
this area. Our 105 units of age-restricted senior housing are all one-bedrooms and do not exceed 60% of AMI,
recognizing that our fixed-income tenants cannot afford above that that threshold. All of senior units are
adaptable, with many also having mobility features, and our common spaces are all ADA-compliant so that
this population can enjoy all of the features of Roots. We've designed very efficient floorplans approaching
TCAC minimums to both curtail costs and maximize the number of households our development can serve. The
co-living component provides 15 affordable-by-design units with 68 private rooms sharing kitchens, common
spaces, and bathrooms within three- to six-bedroom units, fostering a sense of community and camaraderie
Unit Types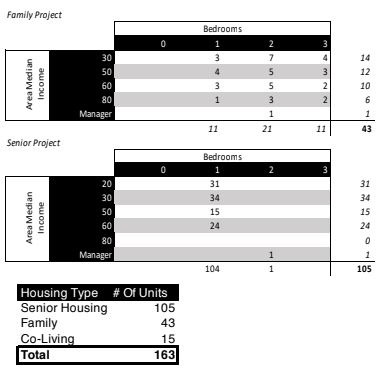 North Parcel Program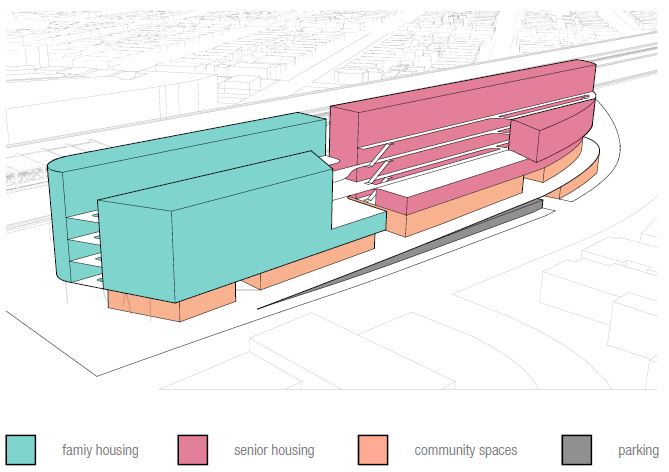 Courtyards are one of Roots' most recognizable common areas and serve to bring together the
populations across generations while providing exclusive options for respite. In the northern parcel,
there is one main courtyard on the fourth floor for each target population complete population-specific
amenities. These courtyards are physically connectedto each other and accessible by all building residents to foster community interactions and joint programming.There is an additional smaller outdoor space covering
half of the fifth floor roof that are exclusively reservedfor each building's residents to provide the privacy that many of these residents will at points desire. Roots places the courtyards away from the freeway and at such a height to give its residents a tranquil spot in themiddle of the bustling Rockridge neighborhood, with views of the Claremont Hills to the east and the Bay to the west. These are spaces that will be enjoyed by all of our residents because who doesnt like to soak up some sun while enjoying a rooftop view.
Additional common spaces delicately balances the cultivation of community with respect of the need for
privacy. The main lobby faces College Avenue and connects to the community room with a communal
kitchen that is available for residents to reserve and for functions organized by building management. Three
additional community rooms in various sizes are located throughout the second floor and are separated by
accordion walls to provide the opportunity to create larger community spaces when needed. A second door
exiting the western side of the lobby takes residentsacross a pedestrian bridge to services space. This break in massing provides additional privacy for semi-public activity including four offices for counseling services available to residents in the Family building. The Senior support services space is accessible from the main pedestrian walkway on the first floor and is designed with an open community room as well as a few private rooms for privacy. To protect residential privacy and security, all of our common spaces will be accessed by key-card.
2. ROOTED IN OAKLAND
Roots is also Rooted in Oakland, taking steps to ensure that it effectively meets the needs of the broader
Rockridge and Oakland communities. A community preference policy ensures the development benefits
Oakland residents most in need. The physical design responds to the surrounding single-family character,
advances robust connections across Highway 24 and the broader neighborhood, and ensures long-term
environmental sustainability at every turn. These design considerations will engender goodwill for project
approvals, and the Team has a number of strategies available to ensure an expedited entitlements process.
SUSTAINABILITY
Roots is designed for both this generation and the next with a priority on environmental sustainability.
An on-site solar-power system of 215,000 PV will cover the rooftop and meet common area residential and
retail energy demands. The project will also pursue GreenPoint Rated Multi-Family certification through
sustainable methodologies like construction waste diversion, hydro-zoning landscaping, Zero-VOC paints,
and reduced parking.
3. STRENGTH IN NUMBERS
Roots is not just an aspirational vision; RockBridge Partners has taken pains to ensure this project can be
built. The maximization of density not only enhances the number of households that can benefit from
the area's high opportunity characteristics, it also increases tax credit competitiveness and enables full
achievement of BART objectives. All three building can be developed within one phase in the near-term,
accelerating the delivery of desperately needed housing.Through thoughtful leveraging of City, State, Federal, and private resources, and conservative underwriting, we believe Roots will be a boon to the residents, BART, and the larger Rockridge community. The assumptions made by The Team are conservative
to ensure Roots will be built no matter any near-term economic changes while providing upside potential to
BART. The project is underwritten with per-unit total development costs 10% above similar recent affordable
housing developments to protect against rapidly rising construction costs. To account for potential market
changes, loan rates are 100 basis points above today's interest rates.
Affordable Strategy
The affordable component on the north parcel will pursue a hybrid 9%/4% structure to maximize tax credit
competitiveness and development scale efficiencies, while also fostering a cohesive community. RockBridge
Partners will deliver both affordable components in one phase and expects the 43 units of 9% Large Family
housing to be very competitive for the 9% award. The project will score full application points given the
highly amenitized neighborhood. For the tiebreaker, the hybrid strategy maximizes the leveraging ratios
and also benefits from "High Resource" neighborhood scoring boost. With a 91.0% tiebreaker (see Appendix
A4), more than 10 percentage points above the highest recent East Bay Family awardee, the Team is confident
that the project can receive a near-term 9% award. The 9% Large Family project utilizes income averaging,
offering a range of 30% to 80% AMI units to service a diverse mix of needy families. To cover total
development costs of $680k per unit less land, the project primarily relies on $25 million of tax credit equity at a $1.00 pay-in. It will be financed by a $5.1 millionCalHFA 35-year fully amortizing taxable permanent loan, maximizing leverage with its competitive pricing and locking in today's historically low interest rates over the long term. Additional gap financing includes FHLB's AHP and Solar Investment Tax Credits.
The 4% Senior age-restricted housing building will offer 105 units at 20% to 60% AMI, of which 30% of
units are set-aside for supportive housing. To cover total development costs of $550k per unit less land,
the project will primarily rely on $23.2 million of taxcredit equity and $9.6 million of CalHFA 35-year fully amortizing tax-exempt permanent loan. Roots will also seek $6.9 million from California's No Place Like Home (NPLH) program to support the 30% deeply supportive units. The project will first seek Alameda County's non-competitive allocation, but also expects to be very competitive for the competitive allocation with a potential full scoring (See Appendix A3) and more than $93 million available in their Large County pool for this round alone. The remaining units will generate $11.3 million from California's Affordable Housing and Sustainable Communities (AHSC) program, with $3.4 million (30%) for the construction of 2 miles of bike lanes, walkways, and the underpass passageway. Competitiveness is expected with strong locational characteristics, high leveraging, and robust transportation components generated application scoring in the upper range of recent non-disadvantaged communities TOD awards (See Appendix A3), along with a significant increase in overall funds available. Additional gap funds include City of Oakland soft loans based on conversation with city staff, a deferred developer fee based on cash-out limitations under the hybrid strategy, FHLB's AHP, and Solar Investment Tax Credits. To ensure the long-term financial viability of this
project, per unit operating expenses of $8,600 per unit are a slight premium to other affordable housing
projects and include $350,000 annually ($2,400 per unit) in services to support our formerly homeless
clients and residents as a whole. On-site solar saves more than $40,000 annually in common area electricity
payments, positioning the building for environmental and financial sustainability. The project will operate
with 37 project-based vouchers (25% of total) and 25 HUD-VASH vouchers, consistent with recent awards,
providing stable long-term cash flow and enabling deeper affordability targeting to ensure Roots is a place
for all. A small retail component of 1,800 square feet will stitch together College Avenue and attract traditional food retailers with a high foot-traffic and vibrant site location, with total development costs of $480,000. Our tenants will pay $3.00 per SF monthly NNN with a conservative 25% vacancy. The General Partner will contribute $460,000 in equity, with capital back by year 12 and healthy returns. Solar Investment Tax Credits will cover the remaining $20,000 of costs, with the investment recouped through higher tenant rents.
- CONCLUSION -
Roots is a once-in-a-generation development to deliver much-needed affordable housing where it is needed the
most. Our proposal seeks to maximize this opportunity with the highest density, greatest returns to BART, and
greatest diversity of benefiting populations. RockBridge partners looks forward to working together during the
Exclusive Negotiating Agreement (ENA) to help bridge the intergenerational divide.
Collaboration with Reshad Hai, M.C.P., Brynn McKiernan M.R.E.D., Mark Trainer M.C.P., Ziye Zhong M.Arch.
CAROLINA AGUILAR, PORTAFOLIO 2023 | AUSTIN, TX 78723 | ANN ARBOR, MICHIGAN 48105 | BERKELEY, CALIF. 94704